Who are Olive & Lake?
International Digital Marketing Agency
Olive & Lake was born out of a collaboration between Sebastien Olive & William Lake which started in Siem Reap, Cambodia. Since we started in February 2019, we have quickly grown to work with more than 150 clients in countries all over the world.
It all started out a few years before when Sebastien was looking for somebody to work on digital marketing for the company he was working with at the time. As it turned out, this first meeting was the start of a great Anglo-French cooperation, but it took some time to get there. There were discussions about the "English Channel" or "La Manche", whether William needs a French passport to be able to celebrate a world cup win, and their shared interest about technology and business development.
Their first project together was for Embassy Restaurant, and it was a tremendous success. We were then tasked to work on fourteen other projects with the same company.
The two had an idea for their own website project and Olive & Lake grew from there. Both William and Sebastien had complementary skills and thought that they would work well together. The beginnings of creating a digital marketing agency were born which came to fruition in February 2019.
Olive & Lake are the perfect example of how cooperation and professionalism provides our customers with an objective view on their digital marketing.
Sébastien is a Digital Marketing Specialist and a Marketing Expert with extensive experience and successes in these fields in the hospitality industry. His main expertise is hotel distribution, marketing and revenue strategy.
Sébastien discovered Cambodia in 2012 on his way back to France from Australia where he graduated with a Bachelor's degree in Business and Marketing.
He went back to France and graduated from Business School with a Master's degree in Business and Marketing from Kedge Business School and worked as a Project Manager for Le Groupe La Poste. After 4 years in France, adventure was calling and he decided to leave again.
Sébastien has a Scientific Background and he is passionate about data, data analysis and loves a good spreadsheet! Often called a "geek" by his loved ones, Sébastien combines marketing and statistical analysis into a very useful skill for his clients. This allows him to get the most out of digital marketing strategies and to use the full power of the Internet and web-based tools.

He arrived in Cambodia in August 2016, and quickly found a job in the biggest restaurant group in Siem Reap. Here, he developed some famous restaurants of the city including Embassy restaurant, Abacus restaurant, DID – Dine in the Dark, and Kanell dinner show.

It was during this experience that Sébastien and William met and started to work together and develop strong affinity and friendship through the development of the restaurant websites and digital marketing strategies.

They have been very successful and they have found that the combination of their experiences and skill sets work well together.

It wasn't long after that Olive & Lake was born.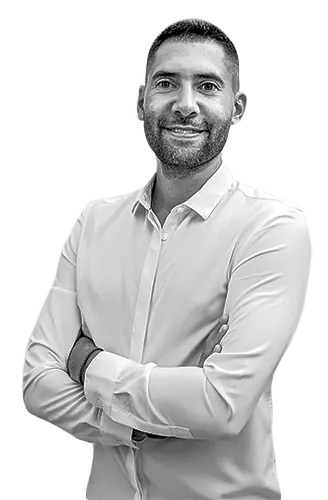 William is a Digital Marketing Specialist and Website Designer with extensive knowledge of SEO.
Born in the early 1980s, William was brought up on computing classics such as the Amstrad CPC464, the Commodore Amiga, Sega Master System, Windows 3.11, MS DOS and other forgotten platforms.
It was during this time that he developed an interest in anything to do with computers.
William has a Bachelor's and Master's degree in law. It was here that he honed his skills as an accomplished academic writer. Skills which were later very useful when he decided to take up SEO.
After the 2008 economic crisis hit, William decided to leave the UK. He sold all his belongings and set off armed with the clothes on his back and a laptop.

He arrived in Cambodia in 2010.

By the end of the year, he had made his very first website. It was a website dedicated to learning English and giving advice to ESL teachers.

He coded it himself, spent countless nights making mistakes and knew nothing about SEO.

In 2011, William made his first dollar online. It was at this point he knew that he wanted to make a living online.

William set about spending the next six or seven years of his life researching, making mistakes, building websites, creating backlinks, learning and reading everything he could find about digital marketing and SEO.

Fast forward to today and William has grown his business and has helped over 150 clients increase their online presence with well-built websites, successful SEO campaigns, social media marketing, and more.

William now specialises in digital marketing and SEO. He has a proven track record and a reputation in Siem Reap as the "guy to go to" for help.

Above all, William never stops learning because he knows that knowledge is what keeps him ahead of the curve.