Do you want to learn how to revolutionise your guest experience and drive more revenue?
Yes, I do!
Hotel Guest Communication Service
Olive & Lake
Olive & Lake will help you to streamline, automate and optimise guest communication in your hotel. There are many platforms, systems, software and tools available on the market to help you to communicate with guests but it can be difficult to know what is best for you.
We've worked with many hotels and understand what you need to communicate effectively with your guests.
Good communication with guests will help to save time, increase bookings, drive more revenue through upselling, get more reviews and increase customer loyalty.
It can be difficult to effectively communicate with guests through so many channels – email, OTA messages, and other platforms such as Messenger and WhatsApp. Olive & Lake can help you to streamline the entire process to help you save time and also to increase revenue through effective communication.
We come highly recommended...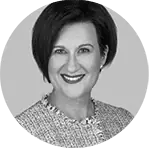 Michelle Cook
Image Consultant
Olive and Lake are absolute professionals who deliver exactly what they say they can and at a reasonable price for a small businesses like mine. Will and the team gave me loads of advice and provided me with guidance that was priceless.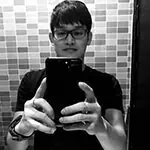 Virak
Montra Nivesha Hotel
This company is outstanding! Staff are friendly, fast to answer requests and easy to work with, especially Sebastien. Everything is possible with these guys, ideas, solutions and advice. I highly recommend Olive & Lake.
Young
Owner of Peacock Asia Tours
William from Olive & Lake made a website and helped to connect me to online travel agencies to sell my tours. After just a few weeks we started to get some bookings!! He was very professional, and he was always available.
Increase Revenue With Good Communication
Choose a Partner You Can Trust
Good communication is important for any business. Your guests want to feel that they are being listened to and that their voice is important. It shows that you value customer services.
Moreover, good communication can help you to get more bookings, increase revenue and get more reviews.
Today, there are many communication channels, making it hard to keep on top of things. We have a solution to help you.
Take back ownership of guest communication using technology to help you make your processes better and more efficient.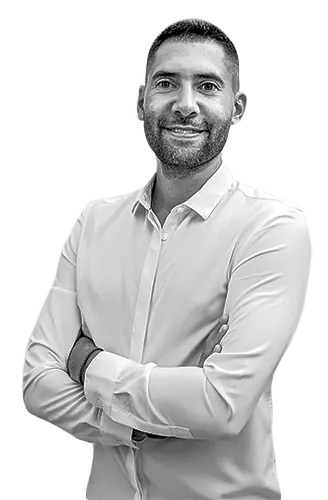 Communication & the Guest Journey
Guest communication is important at each stage of the guest journey from pre-booking to checking out.
Improve Guest Satisfaction. Optimise Your Operations. Increase Your Revenue.
There are 4 periods of the guest journey which can be optimised for communication. Good communication with your guests will enhance their experience as it shows you are listening, value their feedback and will help you to convey clear and consistent messages. If you communicate well with guests, they will have a better experience, you can increase bookings, get more reviews and increase revenue.
Pre-Booking
Potential guests may have pre-booking questions. You need to answer these questions as quickly as possible to capture the booking.
Answer messages quickly across multiple communication platforms, and be reachable where your guests are.

Use tools to optimise your processes and enhance your team's reactivity to guest questions.

Make sure that all messages are followed up quickly and efficiently.
Post Booking / Pre-Stay
Congratulations! You have a booking, now it's time to answer your guests' questions and use this opportunity to provide clear information and upsell other products and services.
Automate upselling across all your communication platforms from one centralised place.

Share helpful and useful pre-stay information to your guests to fulfil their expectations.

Effectively and efficiently maximise your revenue and let your guests know about your other offerings.
During Stay
After your guests have checked-in, you can still communicate with them online during their stay. Let them know about current deals, offers and important notices.
Guests need to know about your current special offers and deals to take advantage of them.

Automate tried and trusted methods of encouraging guests to try your products and services.

Answer guest questions online quickly and efficiently to meet their expectations.
Post Stay
When a guest checks out of your property, communication doesn't end there. There is an opportunity to increase guest loyalty and request reviews.
Get more reviews for your hotel which will help to get more bookings from other guests.

Provide guests with future special offers and deals to encourage them to come back to your property.

Increase guest loyalty with exclusive memberships or promote other properties in your group.
Are You Ready to Communicate Better?
Contact us today for a no strings attached and 100% FREE Consultation.
Chat with a real person!
Want to know more? Keep reading.
Too Many Communication Channels!
Modern Communication Platforms
Nowadays, people have WhatsApp, Messenger, Telegram. Some might still be using Email. Others might be on Twitter or even expect to see a live chat widget on your website.
So, what do you do? You want to be contactable, but it's hard to be on every platform. Do you limit how guests can contact you? If so, you might be losing out on bookings.
Do you go on every platform? If so, it's difficult to manage. Having your accounts tied to a smartphone isn't easy to control. The same with providing your staff access to a Facebook business page. It's not easy or safe.
People nowadays use many different platforms for communication. So what do you do? Be as available as possible or limit how you communicate?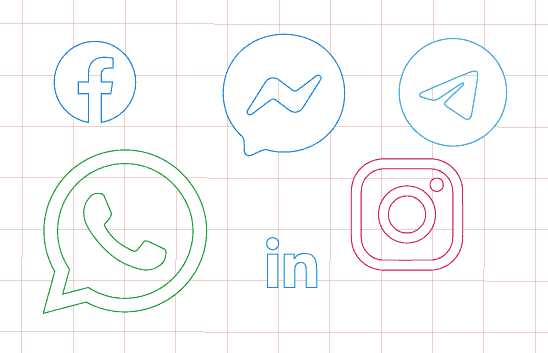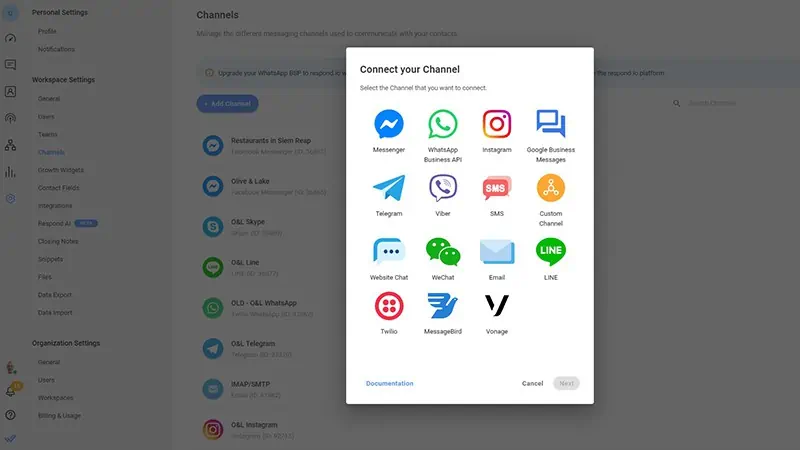 Use a Platform to Fix These Issues
Communication Should Be Easy
Imagine having one guest communication software which can pull all your communication into one place and automate replies with workflows and templates.
Sounds amazing right?
Olive & Lake will set it up for you, show you how to use it and provide support for you and your team.
Picture a situation where you don't need to share passwords to your social media accounts or have your team typing responses to WhatsApp messages on a phone.
All your messages come into one easy to use dashboard which can easily be shared across your organisation.
Make your communication easier, quicker and more efficient. There's no need to manage multiple accounts or devices. There is a solution!
Advantages of an All-in-one System
REDUCE LOGINS / ACCOUNT MANAGEMENT
Nowadays, you need to be on many communication channels. The problem is that it's difficult and time consuming to manage.
Having all your communication channels in one easy-to-use platform is a game changer for your team and your business.
You can automate replies, create automated workflows, use templates for common questions and more.
We'll set it up for you, train you how to use it and show you how to get the most out of it. Communication will no longer be hard work, it will be easy and efficient.
How frustrating do you think it is for your guests to send a message on Facebook Messenger but never get a reply? Be as reachable as your guests expect you to be.
Secure Your Communication Channels

Access All Accounts from One Platform

Track Communication History

Easily Manage Multiple Users

Easier to Upsell to Your Guests

Tailor Your Guest Experience
Building a Long-Term Relationship
WHY CHOOSE OLIVE & LAKE?
The way we communicate is always evolving. There are always bigger and better ways to communicate with each other and people's expectations change.
Technology also changes over time, but the underlying message that great communication increases revenue doesn't change.
We understand the industry and the need to communicate. We also understand the technology behind guest communication.
Our focus is helping your hotel to use technology to make your life easier and more efficient. If you're not communicating effectively, you're losing revenue.
Are You Ready to Communicate Better?
Contact us today for a no strings attached and 100% FREE Consultation.
Chat with a real person!
Our team will get back to you shortly.
Hotel Guest Communication Service
Effective communication increases revenue. If you're not communicating well, you're losing revenue. It's important that you get this right as good communication with your guests will enhance their experience of your hotel, show that you are listening to them, value their feedback and allow you to convey clear messages.
If you communicate well with your guests, they will be happier guests. This will lead to more reviews and more bookings.
Moreover, if you have a direct and open communication channel with your guests, it's easier to upsell other products and services you provide.
You can also increase customer loyalty which will result in commission-free bookings for your hotel and happier guests.
Guest communication is very important to your hotel and we have the technology to take back control over the multiple communication channels available today.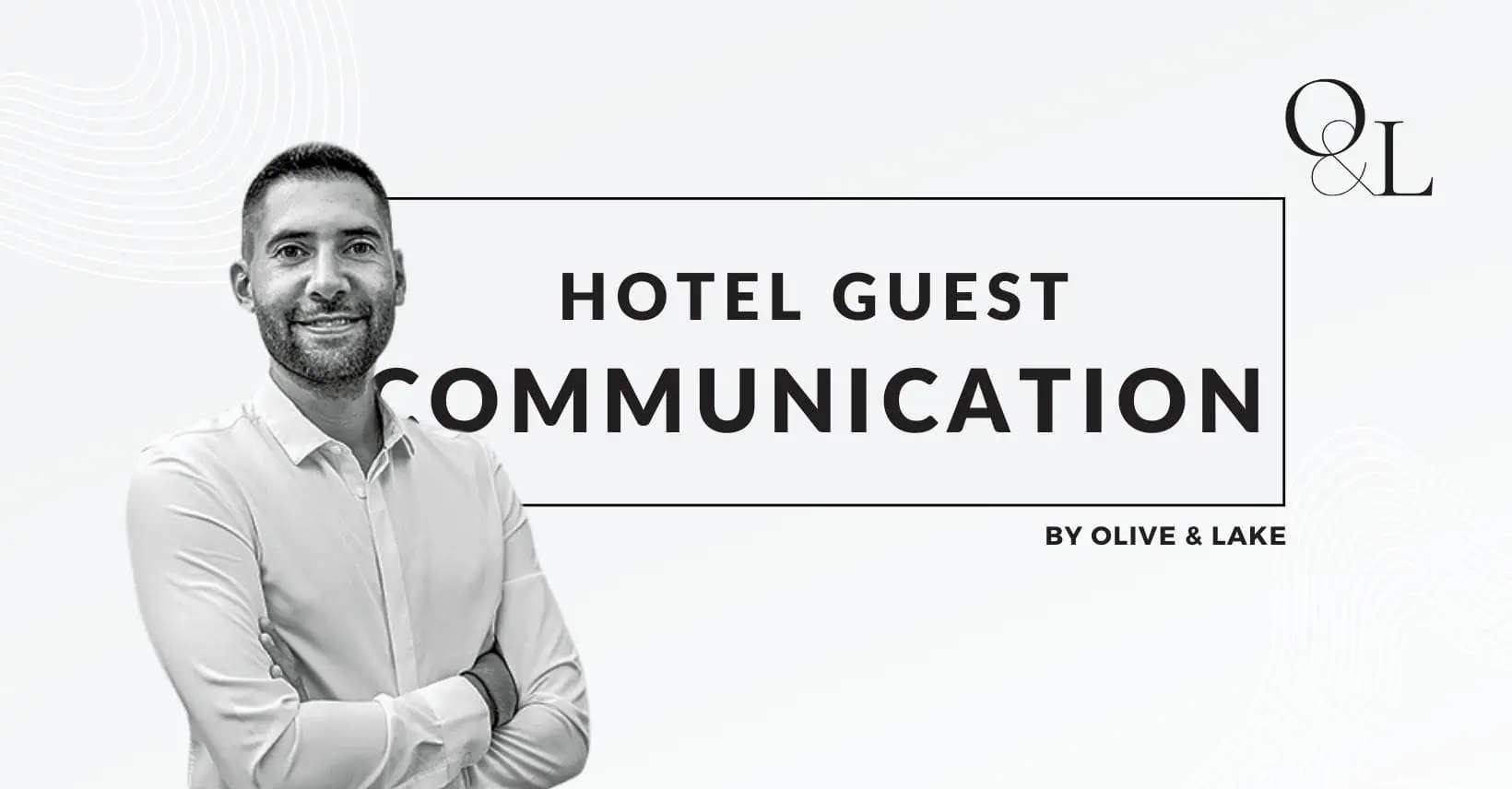 Frequently Asked Questions
What are communication channels?
A communication channel is a way in which a guest communicates with your hotel.
Nowadays, there are many communication channels which include:
Emails
Social Media
Messaging Apps
Phone
The problem is knowing which ones you should be on and how to manage them all.
With emails, there is replying to emails received by customers, building up email marketing lists, sending out email newsletters etc.
Social Media and Messaging Apps are constantly evolving. Popular ones include Messenger, WhatsApp, Telegram, Twitter, Viber, etc.
The problem is how to effectively manage all these communication channels. This is where Olive & Lake has the perfect solution for you. Imagine being able to manage all of these accounts in one easy-to-use dashboard!
This all sounds great, how can I start?
Just contact us today for a chat and we'll explain more about what we can do to help you. We start with auditing how you are currently managing guest communication and go from there.
We're always available for a chat. Send us a message today to get started on improving your guest communication.
How does this help to increase revenue?
Imagine that when making a booking, on any sales channel, the guest is sent an email or a message telling them about the great special offers you have in your restaurant, the deals in your spa or the exclusive access to your business lounge.
Communicating what you have available in your hotel will lead to sales.
Then imagine doing this automatically without you having to do anything except confirm the sale with your guest.