Do you want to improve your search visibility to get more bookings?
Yes, I do!
Hotel SEO Services
Olive & Lake
Understanding the customer journey to find and book your hotel is at the heart of an effective hotel search engine optimisation strategy.
Long gone are the days of trying to rank #1 for the keyword with the most searches. SEO is an all-encompassing service which optimises local business listings, hotel searches, map rankings, and visibility on search engines driving organic traffic to your website.
When looking at SEO specifically for the hotel industry, it's important to understand how it can work, what to target and how to implement a strategy which will provide you with a return on your investment.
This is where Olive & Lake comes in. With our years of experience in the SEO sector and our specialisation in the hospitality industry, we know exactly how SEO can help your hotel to increase organic traffic, drive more targeted visitors and get more bookings.
SEO is essentially getting more visibility on search engines, but as search engines have evolved, so have the methods of driving organic traffic to your website. In the fast moving world of online bookings for hotels, it's important that your SEO strategy can stand the test of time.
We come highly recommended...
Young
Owner of Peacock Asia Tours
William from Olive & Lake made a website and helped to connect me to online travel agencies to sell my tours. After just a few weeks we started to get some bookings!! He was very professional, and he was always available.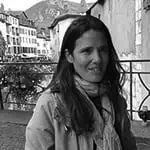 Giovanna Morandi
Owner of Navutu Resorts
I cannot recommend Olive & Lake highly enough. The team created new websites for our 2 resorts in Cambodia and Fiji that immediately increased our visibility, they have a great eye and deep understanding on how to make a website work.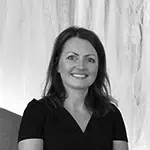 Oxana
Owner of Minster Bridal
I cannot thank you enough for helping me to build my incredible website. Not only were you professional the whole way through, your attention to detail, kind and caring nature and going above and beyond. Would 100% recommend you!
More Than Just Keywords!
CHOOSE YOUR BATTLES WISELY
SEO has evolved into an industry which is more than just ranking highly for certain keywords. This is especially important for the hotel industry where map searches and hotel searches are increasingly important.
Also, look at the competition. If you search for hotels in any area, you'll see website like Booking.com, Expedia and TripAdvisor holding all the top spots.
How can you compete with these huge companies? The answer is to know where to focus your SEO efforts.
Knowing where to focus your hotel's SEO efforts is what will bring your long-term success.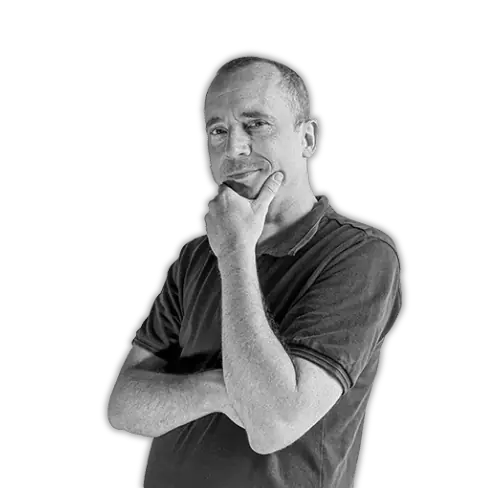 Are You Visible On Your Guests' Booking Journey?
Contact us today for a no strings attached and 100% FREE Consultation.
Start Now!
Want to know more? Keep reading.
Getting the Basic Things Right
Optimise Your Website
Good SEO starts with your website and ensuring that your website ticks all the boxes when it comes to search engine optimisation.
If you are an Olive & Lake website client, you will already have a fully optimised website. If somebody else has made your website, we start with an audit.
It's important that your website is the best it can be before moving forward with any SEO campaign.
Your website will be the source of your direct bookings. In order to get direct bookings, people must be able to find your website!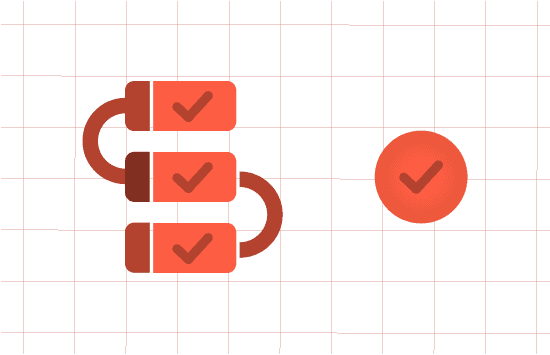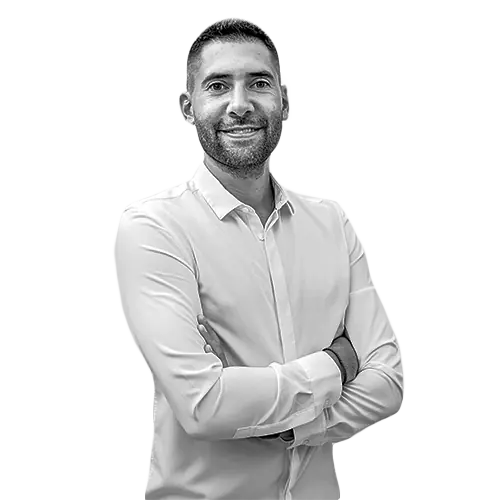 Understanding the Guest Journey
Optimise for Each Step
First of all, you want to understand the customer journey on how most people will search and find your hotel online.
Once you understand this, you can start to optimise for each step.
As with everything we do, SEO is just a part of a bigger digital marketing strategy – something we call the holistic approach to digital marketing.
Ultimately, when people are looking for a hotel in your location, you want them to find your hotel.
When looking at the sales funnel and guest journey, you want to make sure your website is visible every step of the way. As the guest is ready to make a booking, it's your website they should find above everything else.
SEO Strategy for Hotels
Understanding Your guests
Understand the intention behind the search is what will help you to not only drive organic traffic, but to turn that traffic into direct bookings. From informational keywords to transactional searches, you need to understand the journey from the perspective of the person using the search engine.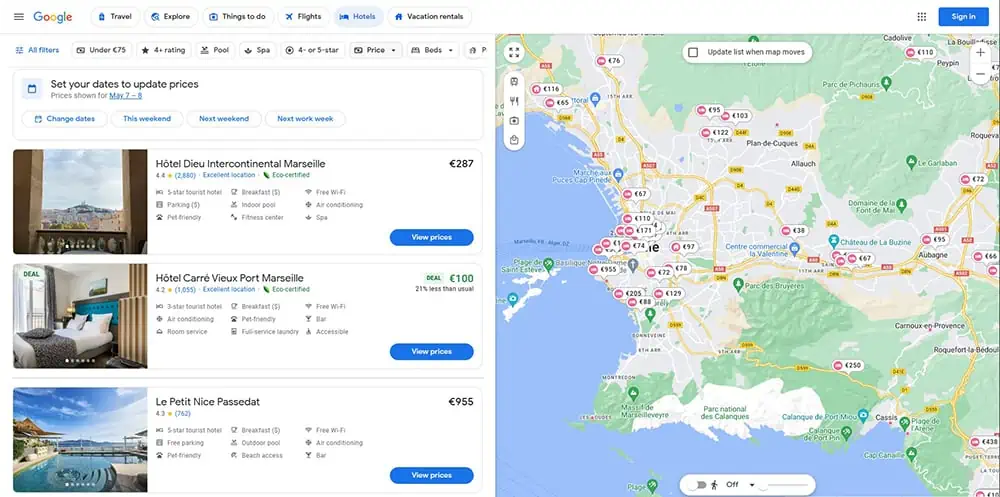 1. It Starts with a Search
Most people will start with a search for "hotel in" and then insert the destination of their trip – "Hotel in Paris".
They might also be a bit more specific at this stage such as "luxury hotel in Paris", "hostel in Paris", "hotel near the Eiffel Tower".
The first thing you should do is search Google for the keywords above and check the results – what do you see?
You will see lots of competition from some big players – Booking.com, Expedia, TripAdvisor, etc.
These high-volume keywords will have very low conversion rates. People are looking to compare and research hotels – so it's normal that they find Booking.com and TripAdvisor.
But look at the top of the search results – there is a map.
This is what you want to be focusing on at this stage – local SEO. You want them to see your hotel in the map results – the top 3 if possible!
2. Shortlisting Hotels
Now the guest is looking through Booking.com for something within their budget, an area they want to stay and something according to their tastes.
Therefore, at this stage, having great visibility on OTA websites is very important. You want your hotel to be seen on OTA search engines.
After the guest has read some reviews, checked out some photos and looked at some prices, if they don't book on the OTA, it's back to Google for another search.
3. The Second Search
Now, the potential guest has shortlisted your hotel with a few others and they're going to start searching for more information. Maybe some more photos, read a few more reviews, and check around for some good deals.
This is where they will search for your hotel name.
When searching for your hotel on search engines, this is where you want to optimise for Google Ads, your Google Business Listing, and ensuring that your website comes #1 in the organic search results for your brand name.
Hotel metasearch is very important here and so is having rate parity. If your rate parity isn't optimised, you could be missing out on bookings and direct bookings.
When doing a brand search, it's all about optimising the search results to maximise entrances to your website.
4. Your Time to Shine
Great, the potential guest has landed on your website! This is where your website becomes important to optimise for sales and bookings.
You want to make sure that your website leaves a lasting impression on the guest, has some great direct booking incentives, some good special deals and more.
This is your chance to stand out from the competition and grab that direct booking.
Are you Visible on your Guests' Booking Journey?
Contact us today for a no strings attached and 100% FREE Consultation.
Start Now!
Want to know more? Keep reading.
Content Marketing & SEO
UNDERSTANDING YOUR GUESTS
Of course, this is only one journey. There are other ways for guests to find your hotel online.
Another journey might involve content marketing. Guests may be searching online for more information about the local area such as things to do, safety information, etc.
Your blog posts and articles should be optimised for SEO so that potential guests find your website. Now, these guests might not turn into direct bookings on their first visit. But when searching for hotels in your area, they may recognise your brand.
In this situation, SEO can help with brand awareness and get visitors to recognise your hotel when shortlisting possible places to stay.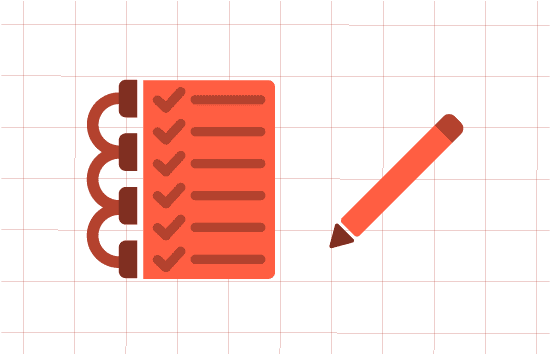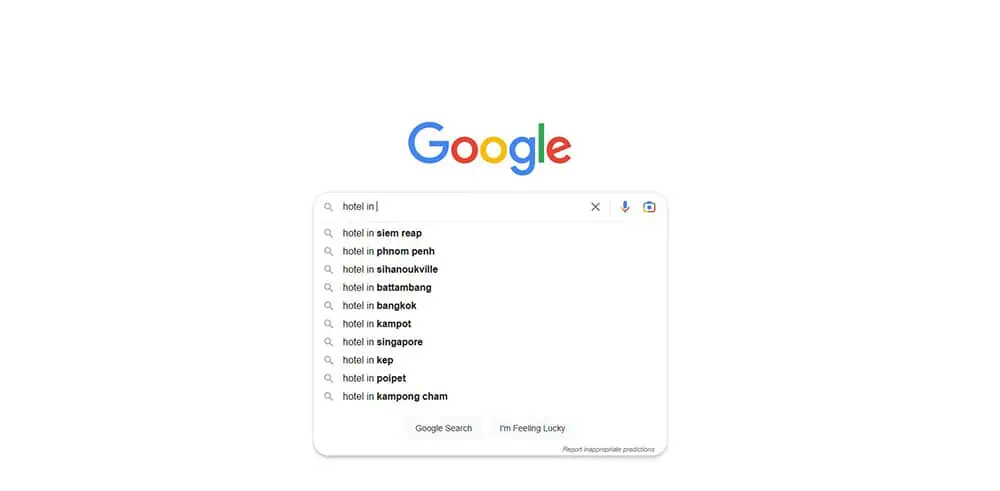 Hotel SEO Keywords
Choosing the Right Keywords
After understanding the customer journey, it's time to understand how to target the right keywords. There's no point in targeting the keyword "hotel in Paris" as you're going up against some of the biggest companies in the industry.
Guests are looking to compare hotels with this keyword, so if they land on your website, you'll have a very low conversion rate.
It's better to find long tail keywords which have fewer searches, are easier to rank higher and will have a higher conversion rate.
Understanding the searcher's intent will help you to understand what keywords to focus your SEO efforts.
Good keyword research is the cornerstone of any successful SEO campaign.
Types of SEO for Hotels
SEO is a complicated business and comprises of many aspects.
SEO Website Audit
Where to Start with SEO
Everything comes back to your website. There's no point in starting an off-page SEO campaign if your website isn't optimised for search engines.
Some of the biggest factors for ranking highly in search engines are directly related to on-page and technical SEO.
Therefore, if we didn't build your website (if we did, it would be 100% optimised for SEO), then we start with an audit and note all the things which need fixing.
After optimising your website, you would likely notice significant gains in organic traffic and it will give us a platform on which to build.
SEO starts with your website. You need to make sure the foundation is strong before you start building on it.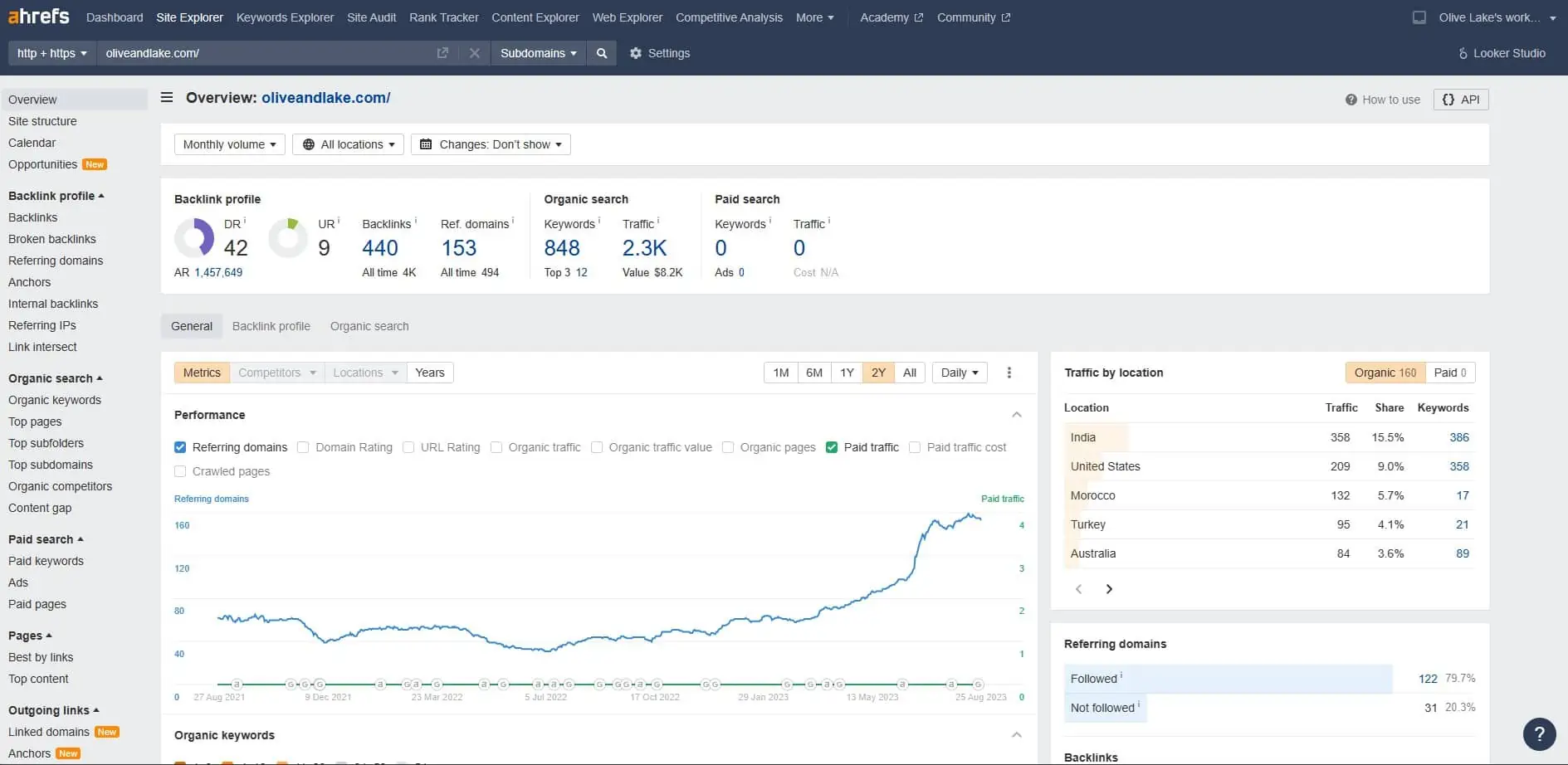 Are you Visible on your Guests' Booking Journey?
Contact us today for a no strings attached and 100% FREE Consultation.
Start Now!
Our team will get back to you shortly!
Search Engine Optimisation for Hotels
Organic traffic to your website is important to drive direct bookings. You want to get brand visibility, ensure people are landing on your website when searching your hotel name and drive visitors which will turn into bookings.
SEO for hotels has its own unique challenges which can be different from other businesses.
The keyword intent of some of the biggest searches in the business are people looking for hotel comparison websites. Therefore, instead of trying to compete with Booking.com and Expedia for rankings, use their visibility to your advantage.
Rank highly in the OTA search results, get visibility and use this billboard marketing effect to drive people to your website and clinch that direct booking.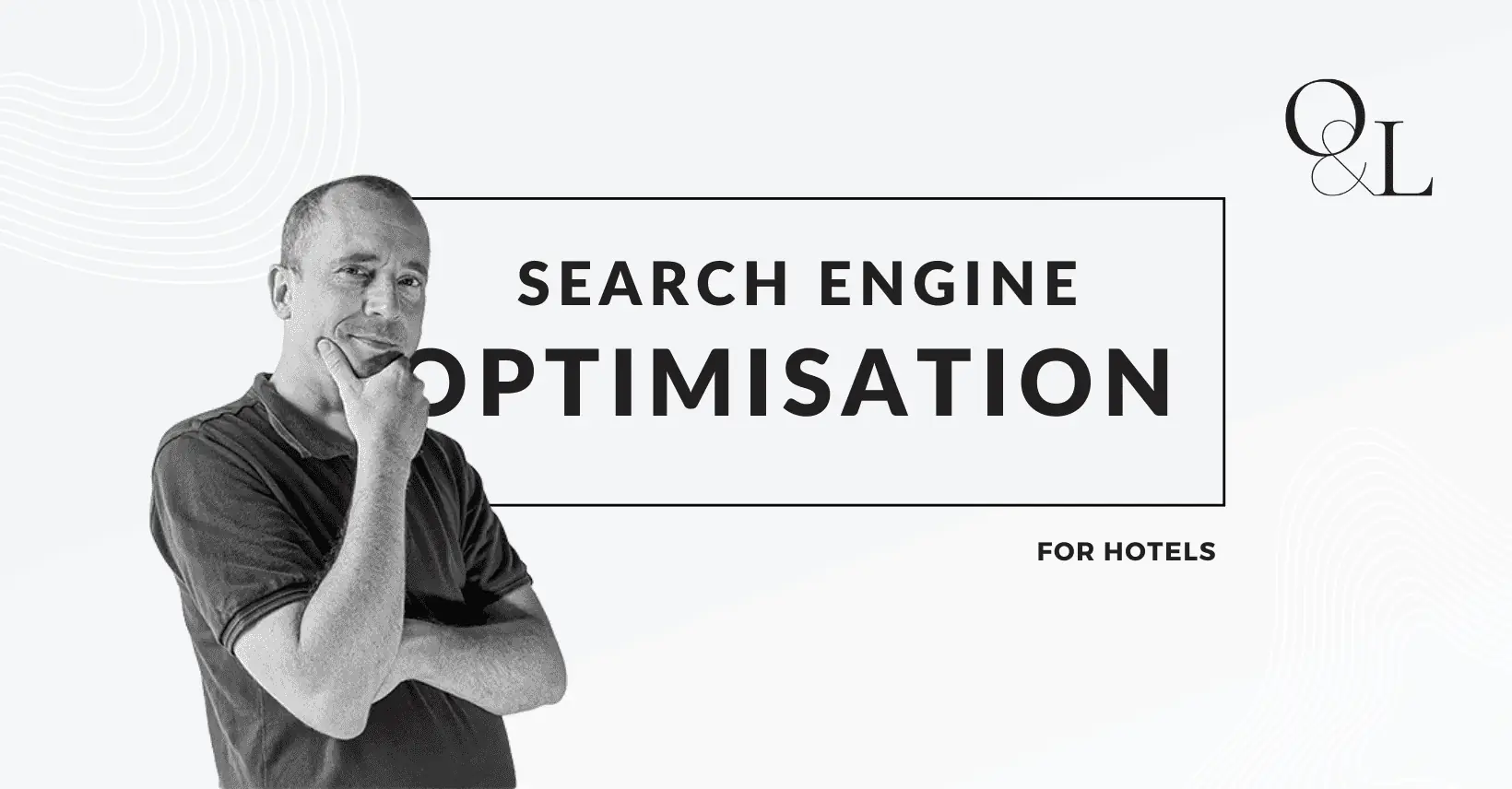 Frequently Asked Questions
When can I expect results?
SEO is a long term strategy, so don't expect results overnight. However, with a well planned and implemented SEO strategy, results will come and will last for a long time.
If you have a small marketing budget, there may be other areas which will provide you with a better and faster return on your investment.
As always, there isn't any one-size-fits-all to digital marketing and we're happy to discuss your options with a free consultation for your business.
How can I get started?
It starts with a chat so we can get to know you and your business. SEO may or may not be the best course of action to start promoting your hotel. We'll ask some questions, look at your goals and assess whether we think this is the right path for you.
The first thing we would do is audit your entire online presence and see if there are some areas where you can make quick gains by fixing some small issues.
As always, it starts with a free consultation. So, contact us today for a chat.
Why is SEO important for hotels?
SEO is important for any business and not just hotels. By making your hotel more visible on search engines, you'll drive more targeted traffic and more direct bookings.
However, it's important that it's done right. You don't want to waste time and money focusing on the wrong keywords or strategy. Instead, you want to focus on an approach which will bring you more visibility and last the test of time.